Branch Programs 2023-2024
Saturday, September 23rd, 11 am
Speaker: Caleb Kulinski, Director of Advocacy & Partner Engagement for the Indy Hunger Network (IHN)  http://www.indyhunger.org
George's Neighborhood Grill
6935 Lake Plaza Dr, B12,
Indianapolis, IN 46220
Saturday, October 7th, 11 am
Speaker: Ali Brown, Executive Director of the Indianapolis Propylaeum
The Propylaeum
1410 N Delaware St
Indianapolis, IN 46202
Wednesday, November 8th, 7 pm ZOOM
Speaker: Lisa Maatz, nonprofit consultant, gender equity expert, savvy strategist
Topic: Advocating for equity for women and girls in the face of increasing legislative challenges
On Zoom. Contact Jan for the Zoom link
Saturday, December 2nd, 11 am
Holiday Luncheon – AAUW Fellowship and NCCSWL Awardees presentations
George's Neighborhood Grill (see above)
Bring donations for the Julian Center
2024
Wednesday, January 10th, 7 pm ZOOM
Speaker: Sarah Bowman, Reporter for the Indianapolis Star newspaper
Topic: ScrubHub
On Zoom. Contact Jan for the Zoom link
Wednesday, February 14th, 7 pm ZOOM
Speaker: To be announced
On Zoom. Contact Jan for the Zoom link
Saturday, March 16th, 7 pm (Zoom)
Speaker: Clovia Hamilton, PhD
Topic: Artificial Intelligence (ChatGPT, Robocops, etc,) especially as they relate to K-12 and higher education
George's Neighborhood Grill (see above)
Saturday, April 20th – all day
AAUW state convention by Zoom
Saturday, May 11th, 11 am
Speaker: Roni Embry
Topic: How lobbyists impact laws at the Indiana General Assembly plus an update on the 2024 legislative session
George's Neighborhood Grill (see above)
Past Branch Programs 2022-2023
October 1st
Tour of Kurt Vonnegut Museum and Library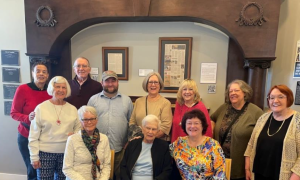 November 17th
Historian Amy Wilson, PhD, spoke on the history of Title IX
George's Neighborhood Grill 7pm
Bring donations for Hoosier Veterans and Families (HVAF)
December 3rd
Holiday Luncheon – AAUW Fellowship recipients spoke about their research
Catello's Italian Art Cuisine 11:30am
Bring donations for the Julian Center
2023
January 11th 7pm (Zoom)
Indiana Citizen Co-Founder and President Bill Moreau spoke enthusiasticallly about the nonpartisan, non-profit, non-fiction platform dedicated to increasing the number of informed, engaged Hoosier citizens. You'll want to bookmark Indiana Citizen's very informative website: http://www.indianacitizen.org
View the presentation here.
February 7th 7 pm (Zoom)
Holly A. Tate, Architectural Historian, Indiana Department of Natural Resources, Division of Historic Preservation and Archaeology, spoke to us about the Indiana Green Book
Contact Peggy for the Zoom link
March 28th 7:30 pm (Zoom)
Our speaker was Janice Munemitsu, author of The Kindness of Color. Janice will tell us the true story of two immigrant families who came to Southern California for better lives, only to face their own separate battles against racism in the midst of World War II. One family came by land from Mexico and the other by sea from Japan. Little did they expect their paths would meet and lead to justice and desegregation for all the school children of California in Mendez, et. al v. Westminster (1947) – seven years before Brown v. Board of Education (1954).
Janice Munemitsu is a third-generation Japanese American Sansei (a sansei is a person born in the US or Canada whose grandparents were immigrants from Japan). A native of Orange County, California, she worked on the family farm from age five through high school. She is a graduate of the University of Southern California and Biola University.
The Kindness of Color
www.thekindnessofcolor.com
Note: Janice's book may be purchased on Amazon and Barnes and Noble
Contact Jan for the Zoom link
April 15
AAUW state convention at Fair Oaks Farms, Fair Oaks, IN
May 13th 11 am George's Neighborhood Grill
Our speaker was Indianapolis Branch member Aleta Hodge. Aleta has authored several books and is involved in helping restore Indiana Avenue to its previous glory. She will share her writing and Indiana Avenue experiences with us.
Aleta Hodge has a BS degree from Stanford University and an MBA from IU Kelley School of Business. In addition to writing, she has performed as a storyteller and podcaster on various subjects including Madame C. J. Walker, Wes Montgomery, and Jazz on Indiana Avenue.